Why is Cabarete the best destination for Kitesurfing?
Cabarete is one of the best destinations for kitesurfing in the world, and for good reason. This small beach town on the northern coast of the Dominican Republic is the perfect place to learn and practice kitesurfing, with its ideal combination of steady, consistent winds, warm, shallow waters, and wide, sandy beaches. The winds in Cabarete are strong and reliable, making it one of the best places to learn how to kiteboard. The consistent tradewinds blow at a steady 15-20 knots, providing plenty of power to get you up and riding. The ideal wind direction is easterly, but Cabarete is also blessed with side-onshore winds over the summer months. The warm, shallow waters of Cabarete provide an ideal learning environment for both beginner and experienced kitesurfers. The waist-deep water is perfect for launching and landing, and with plenty of sand bars and lagoons, there's plenty of room to practice your tricks. Cabarete also has a wide variety of activities for kitesurfers, from competitions and clinics to kitesurfing lessons and rentals. With its vibrant nightlife, delicious restaurants, and gorgeous beaches, Cabarete has something for everyone. For those looking to make the most of their kitesurfing experience, Cabarete is the perfect destination. With its steady winds, warm waters, and wide variety of activities, Cabarete is the perfect destination for kitesurfing. Whether you're a beginner or an experienced kiter, Cabarete has something for you.
How to kitesurf in Cabarete:
1. Get the Right Gear: Before you go to Cabarete, make sure you bring the right gear. You'll need a kite, harness, board, and wetsuit. You can buy or rent gear in Cabarete, if you dont have.
2. Start with a Lesson: It's best to start with a lesson, even if you've kitesurfed before. The conditions in Cabarete are different than other places, and you want to make sure you're kiting safely. There are several kitesurfing schools in Cabarete that offer lessons for all skill levels.
3. Find the Best Spot: Cabarete has several great spots for kitesurfing, but the best spot for beginners is on the north side of the bay. This area is mostly shallow and has consistent winds, making it perfect for learning.
4. Have Fun: Kitesurfing in Cabarete is an incredible experience. Once you've got the basics down, you can start exploring and having fun. Take some time to enjoy the view, catch some waves, and show off your skills.
Kitesurfing in Cabarete is a great way to experience the Dominican Republic and have an amazing time. Whether you're a beginner or an expert, you're sure to have an unforgettable experience. With the right gear and a bit of preparation, you'll be kiting in no time. So grab your gear and get ready for an unforgettable experience!
Is kitesurfing dangerous in Cabarete?
Overall, kitesurfing in Cabarete is safe when done properly. With the right preparation, training, and safety measures, it can be an enjoyable and rewarding experience. So if you're looking to get out in the water and experience the thrill of kitesurfing in Cabarete, don't let the fear of danger hold you back – just be sure to follow the proper safety precautions.
Is kitesurfing hard to learn in Cabarete?
kitesurfing instructors in Cabarete are experienced and knowledgeable, and they can provide quality instruction to help you get up and riding as quickly as possible. When you take a kitesurfing lesson, the instructor will start by teaching you the basics — how to control the kite, how to launch and land it, and how to stay safe while in the water. Once you've mastered the basics, you can move on to the more advanced techniques, such as jumping, turning, and riding waves. With practice, you'll be able to execute these maneuvers with ease. Kitesurfing can be a challenging sport, but with the right instruction and practice, you'll be able to make rapid progress.
What kite size for Cabarete?
The size of kite you need for Cabarete depends on a few factors, such as your skill level, wind speed, and the type of kite you want to use. Generally, most kite-surfers in Cabarete use kites that range from 8m to 14m in size. Beginners should opt for a kite that is slightly bigger than average, such as a 12m or 14m, as this will make learning easier and will give you more control. The wind in Cabarete is usually between 12-25 knots, so a 12m or 14m kite should be suitable for most conditions. For more experienced kiters, the size of kite you need depends on the type of riding you plan to do. If you plan to do freestyle and waves, then a smaller kite, such as an 8m or 10m, is best. For bigger air and more speed, go for a larger kite, such as a 12m or 14m. No matter what size kite you choose, it's important to make sure that you have the right gear and that you are comfortable with the kite you are using. If you are unsure of what size kite to get, it's always best to speak to a local guide or instructor who can help you make the right decision.
What are the best Kite centers in Cabarete?
AGK kite/wing school – https://agkiteschool.com/ with Aryen and his team.
Located right at the corner of our HARMONY beach front residences ( 1 min walk ) : friendly ambiance with instructors / supervisors ready to help you pump your Kite with compressor , supervise your sessions and bring back your gear if you downwind for any reason or as needed .
CLUB VELA CABARETE : www.velacabarete.com with Jens and Audrey
The school is located on the east side of the bay , only a 5 min walk on the beach : great extra flats conditions if you are learning to waterstart.
LIQUID BLUE CABARETE : www.lbcabarete.com/ with Charles and Yanick
Located only a few minutes walk on the beach front our residences . You'll find a lot of useful information on their website and Youtube channel (www.youtube.com/channel/UCl5zIGj7XVEOVdxvzjjd_Ww).
What is the best wind forecast website or app for Cabarete?
The most popular wind forecast website for Cabarete is WindGuru. It offers detailed wind forecasts for the next ten days, with hourly updates throughout the day and detailed information about wind speed, direction, and gusts. WindGuru also includes a lot of other helpful features such as wave forecasts, tide charts, weather maps, and more.
From our experience we have found "HRW-FV3 3 km" forecast model to be the most accurate.
Contact us learn more about accommodation and courses
Activities in Cabarete: Kiteboarding
Ocean Dream and Harmony are located right in the center of the main beach of CABARETE and for many good reasons not in the KITEBEACH section.
If you are looking for less crowd for learning or as an advanced rider this is where you want to be.
For advanced Surf riders , the reef right in front of our residences offers the best shape for quality wave riding ( the waves there have the most "throw" to enhance your surf experience and carving , and to make progress . You will surf with usually no more than 10 riders there and the bay is 3 km large so you can easily find wave section all to yourself which is so important when it comes to wave chasing).
For beginners: Again to avoid the KITEBEACH crowded context, we recommend the main beach where you ll find area on the east side and west side of the bay with perfectly uncrowded butter flat conditions , perfect for progression .
Right in front of our residence you ll find the widest section of beach with plenty of room to pump up your kite and layout your lines without any overlap with other riders.
Offshore about 200 meters is a reef that often creates fantastic waves for perfect side shore glassy wave riding. The swell is usually around 1 meter in the summer and can go up to 4 meters in the winter.
Aside from the Ocean Dream beach area Cabarete has several other excellent spots for kiteboarding including Encuentro for 2-4 meter waves, and La Boca – flat water where the river meets the ocean.
Downwinders are a must because of the perfect side-shore predictable trade winds/thermal combination and the sandy beach that makes it very safe to venture out .
We can help you organize downwinders from Laboca to Cabarete or from Cabarete to Encuentro with reliable Taxis that will be waiting for you at arrival and will bring you back home without wonders.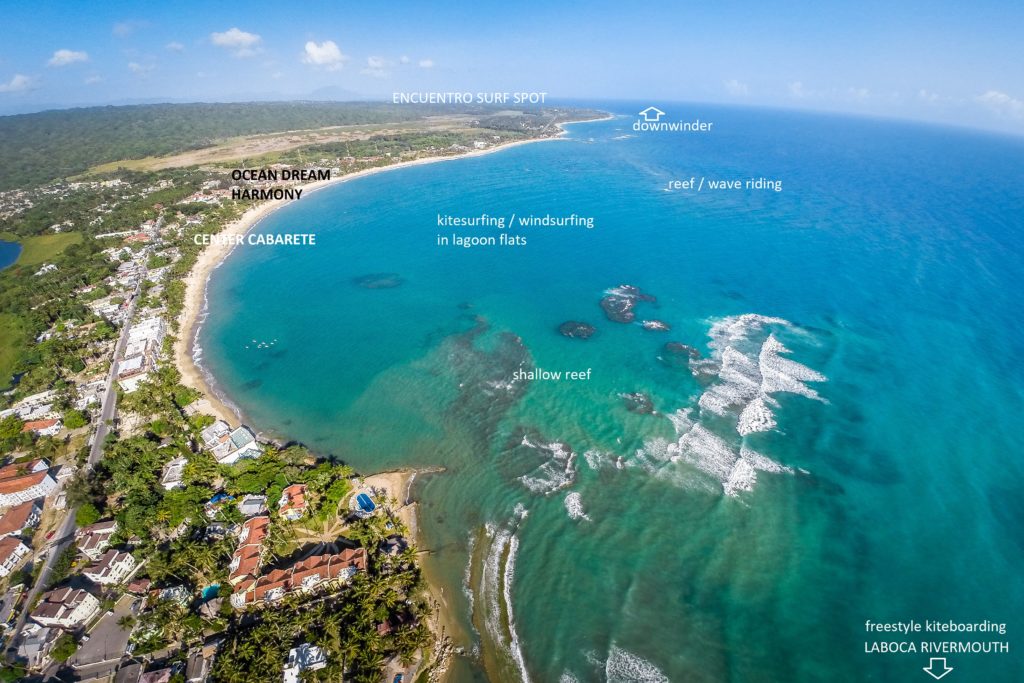 For more specific questions on lessons, down-winders, kite spots and conditions in general don't hesitate to call me, your future host at 1-305-8779161 or by email at [email protected] + ( http://starkites.com/team/star-ambassadors/eric-vimont/)
I have all the info and logistics ready for you to max out your kitesurfing dream trip ( Kite taxis / kite instructors / kite gears etc ) .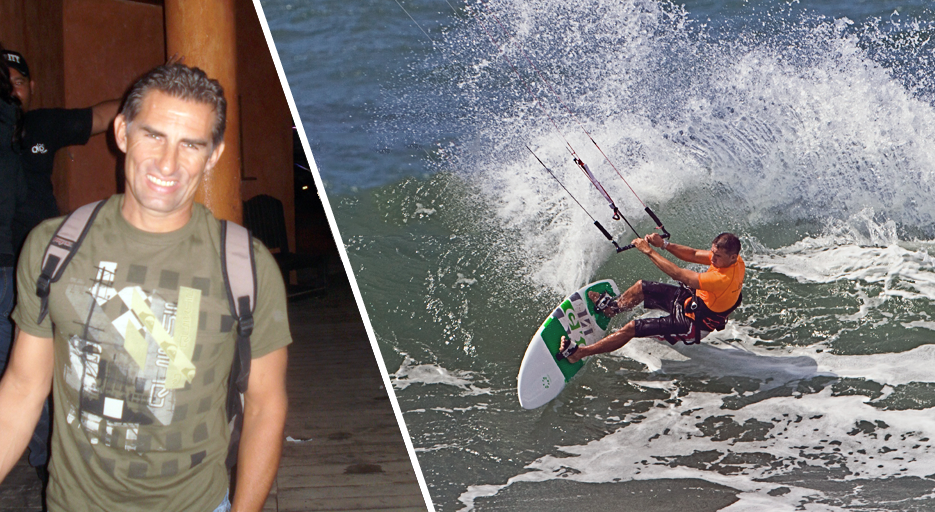 We love to assist our kitesurfing clients with planning downwinders to Encuentro legendary surf spot .
Our latest video speaks for itself and come down to share this dream with us.
OUR KITEBOARDING SCHOOL PARTNERS
STAR SCHOOL and TEST CENTER

The new Starkites SHOP\OFFICE is now located in the center of cabarete in small pedestrian street going to the beach to join LAX bar or Pomodoro restaurant.
We expect you to provide you the all necessary infos concerning kitesurfing in cabarete , and of course to give you any informations on our kitesurf collection or to organize a test of our products.
We propose the full collection of the current year and interesting offers on new gears from past years or used Starkites gears.
SK-school
You can book your kitesurfing lessons knowing that part of your lesson will be refunded on the purchase of equipment.
Book your lessons now at Starkites School
AGKitesurfing School Cabarete Dominican Republic
You ll find AGK kite school and STAR test center just 50 meters right of the beach entrance of Harmony/OceanDream
Kitesurfing Gallery