Amenities

Air conditioning in all rooms
70inch Plasma smart TV in living room
Plasma TVs in bedroom 1 & 4
Cable HD TV
DVD Player with MP3 and CD
iPod docking station
High Speed Fiber Optic Internet (100 Mbps WiFi)
Safe
Kitchen fully equipped
Full size washer and dryer
Full sized dining room table
Lounge bed on terrace
Full time housekeeping available
Full time chef available
Baby sitter available
Harmony Apt 211 – beachfront property, stunning ocean view, ground floor, 4 bedroom, 3 baths
Harmony, a 5 minute walk from the center of Cabarete's restaurants and nightlife, is by far the most prestigious residence on the north coast of the Dominican Republic.
Located directly on the beach in the center of Cabarete bay, Harmony offers a luxurious, spacious 4 bedroom beachfront condo with spectacular views of the bay. Surrounded by lush tropical foliage, impeccably landscaped grounds, and unobstructed views of the beach and infinity edge pool. This tropical styled unit is nestled within a securely gated, private resort-style residence. Where Cabarete is the heart of the Dominican Republic, Harmony is its soul!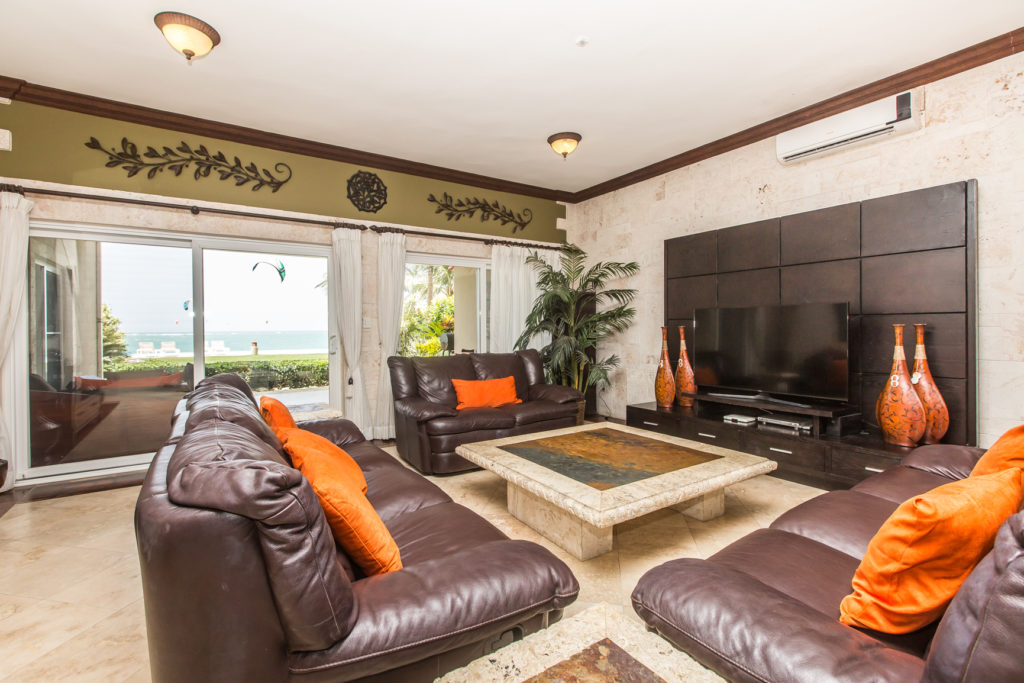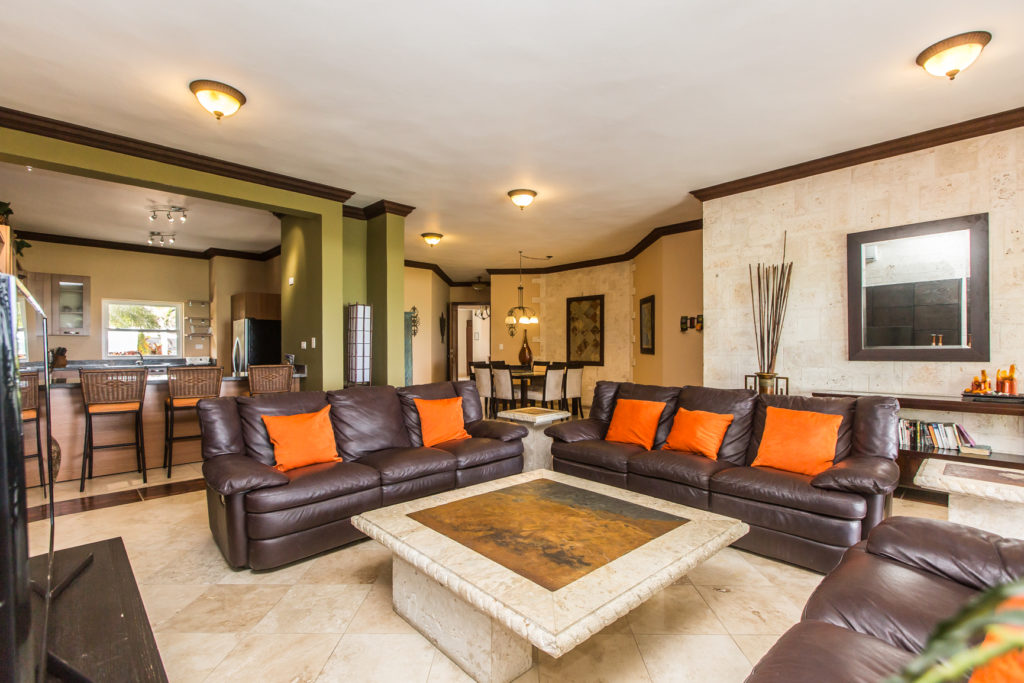 Typically most accommodations usually have one main room with a view of the beach or pool. Harmony, unlike any vacation residence, offers phenomenal views of ocean and infinity pool from its two grand master bedrooms, gourmet style kitchen, expansive patio, and stunningly decorated living and dining rooms. Retreating to your own secluded haven has never been so easy!
After waking to a stunning view, spend the day lounging at the pool or participating in one of the countless recreational activities found only in Cabarete. Harmony oceanfront apartment overlooks an infinity edge pool and two gazebo styled lounging areas that are located directly on beach. Great for entertaining guests outdoors!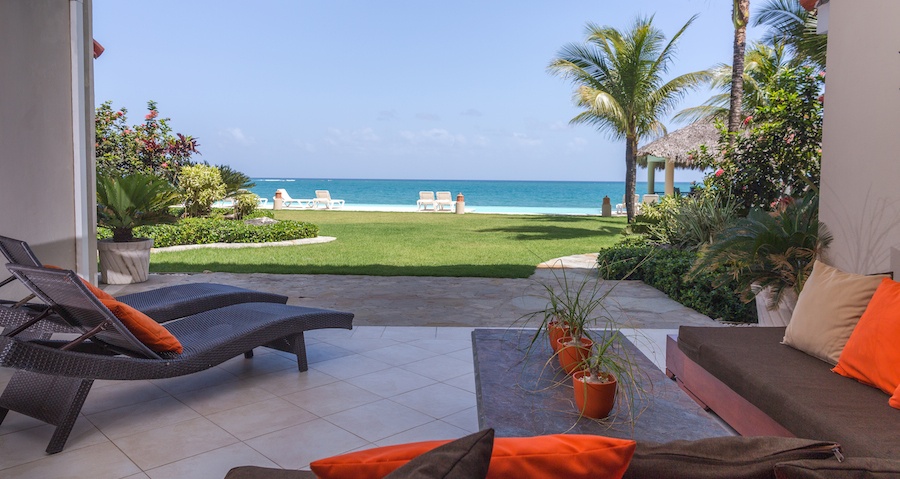 The Eastern Trade Winds and warm turquoise ocean waters make it an ideal playground for windsurfing and kitesurfing enthusiasts from around the world. Even if you don't participate in these sports you'll find the colorful sails and kites flying in the Bay an amazing sight to behold!
What makes our residence so attractive is the proximity to the little village of Cabarete: a 5-minute stroll along the beach. With its Saint Tropez atmosphere, Cabarete proudly boasts of its unsurpassable dining experience with over 20 top-notch restaurants offering both local and exotic cuisine.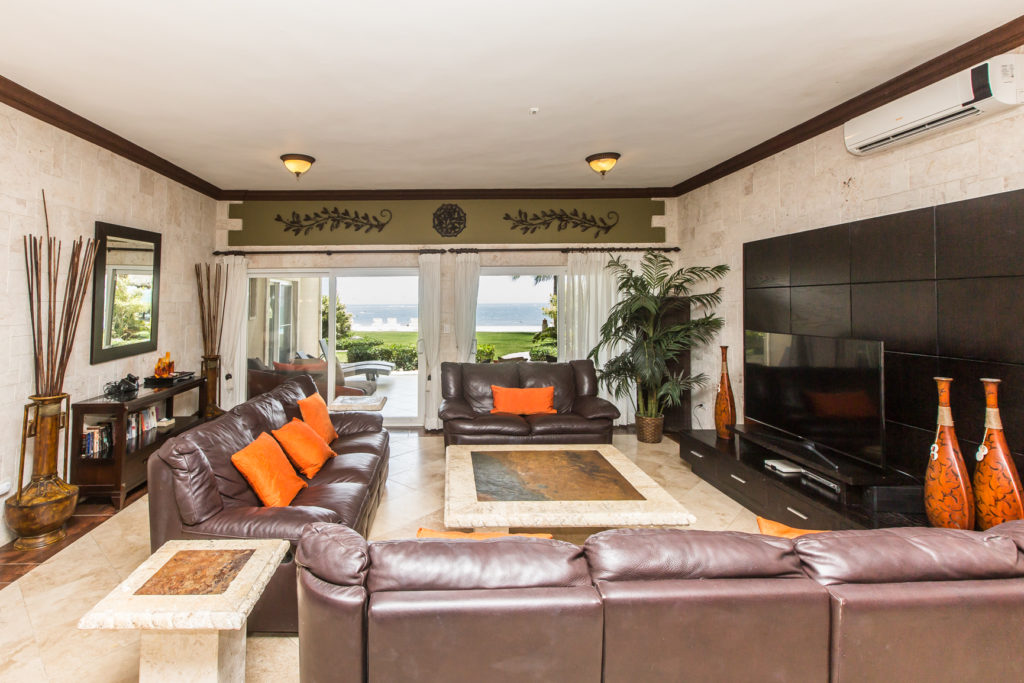 Wi-Fi Broadband internet access is available for those wishing to connect for business or pleasure during their vacation.
This oasis of exotic elegance, 2,765 square feet (257 sq meters), features walls of natural coral stone, 9 feet high ceilings, and tropical inspired décor with ample lounging, entertaining, and dining areas making it ideal for sinking into relaxation. Only the highest quality materials, including porcelain flooring, stainless steel faucets and Italian furniture, decorate this truly magnificent haven. The classy decor and Caribbean ambiance radiates throughout this spacious four bedroom, three-bathroom luxurious condo where each room houses all the amenities of a five star hotel.
Kitchen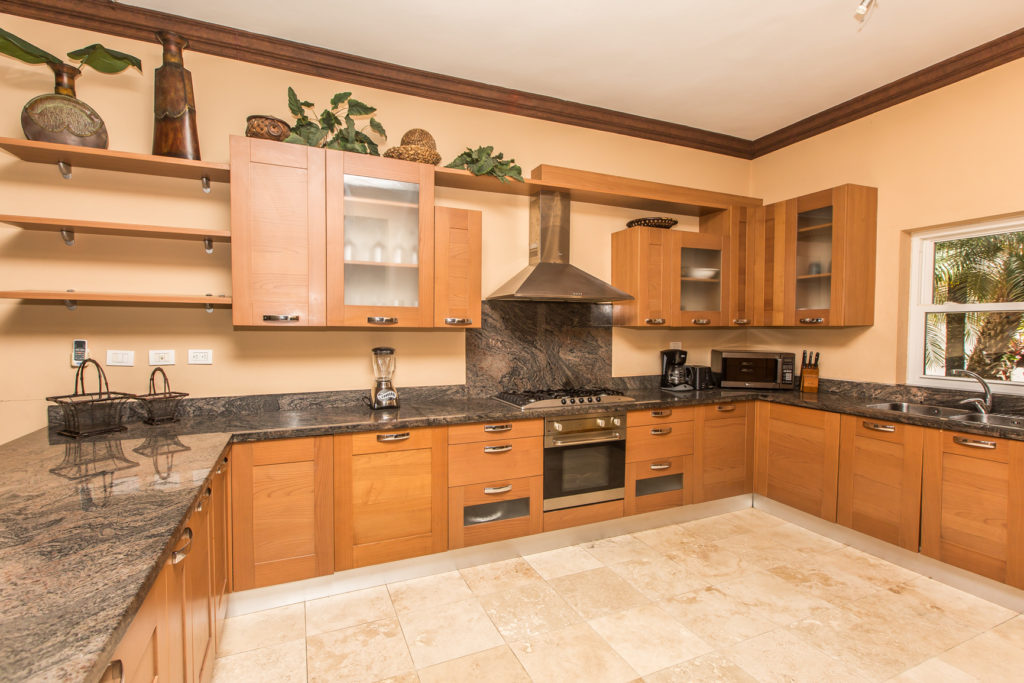 The kitchen with its stainless steel appliances is fully equipped with all the accouterments for the connoisseur of fine cuisine.
Dining Room
For the gourmet chef savoring the opportunity to experiment, Harmony's dining room is ideal for showcasing the delicacies offered in Cabarete.
Terrace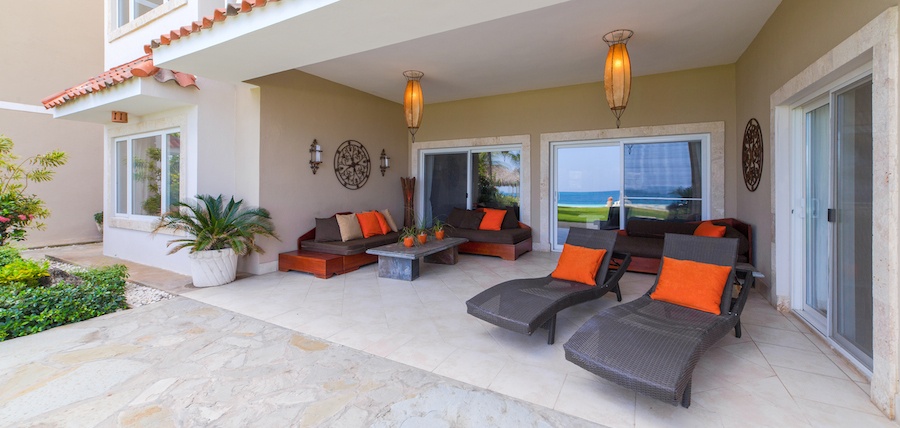 The spacious terrace (150 sq foot) is ideal for indulging the senses with its unadulterated views of the ocean and infinity pool. With so much to do in Cabarete, this is the perfect spot for an afternoon siesta or sipping martinis under the stars before hitting the waves or nightlife.
Awake the inner child to the beauty of Caribbean sunsets where none rival Cabarete's. Breathe! Relax! Succumb to it all from your very own sanctuary!
For the ultimate in entertaining and decadence nothing beats plush sofas, exquisite décor, spacious room, and a 42" plasma screen TV featuring US, European and local programming, a DVD Player with MP3 and CD playback and a iPod docking station. The living room hits the spot after an adrenaline rushed day of kite surfing.
Harmony offers 4 elegantly decorated bedrooms with 3 full bathrooms. All rooms are fully air-conditioned with ceiling fans. Harmony can easily accommodate between 10 to 12 people
Ocean View Master Bedroom #1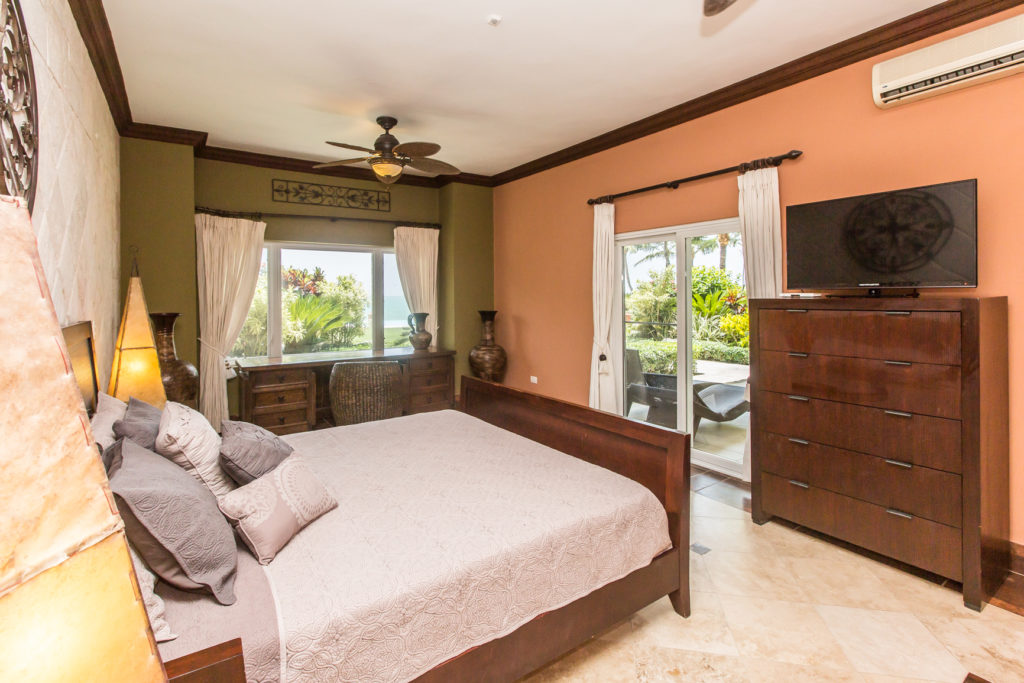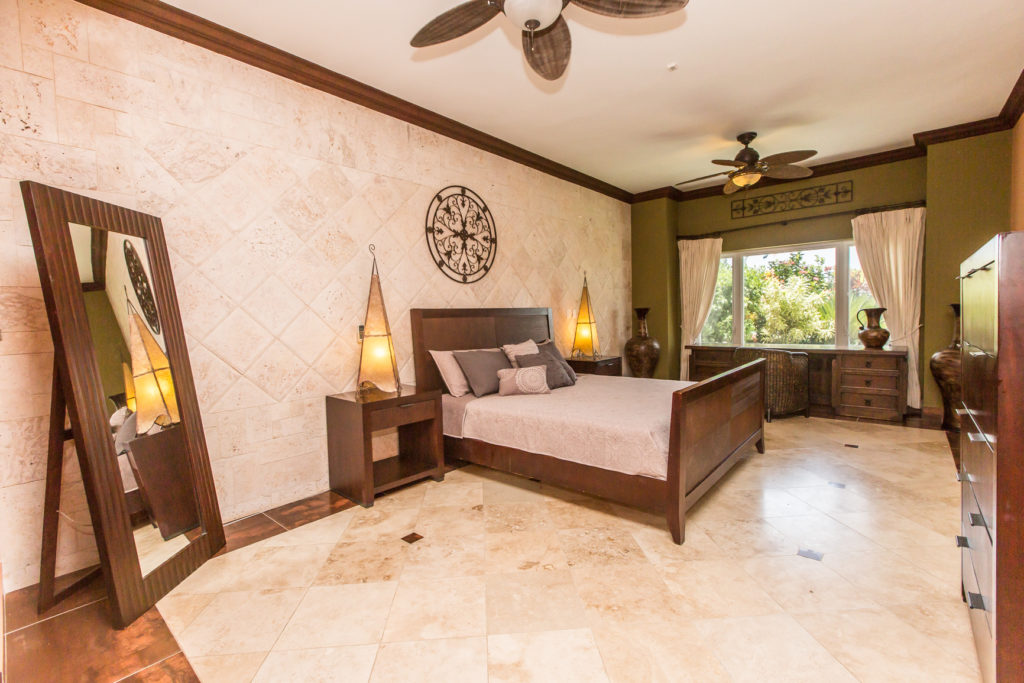 The grand master bedroom #1 is exquisitely adorned with tropical accents amid elegant mahogany wood furnishings, an inviting paradise on earth. A king size bed draped in lavish linens and ample lounging space with full views of the ocean and infinity pool for daydreaming, create a bit of a daily challenge in forsaking the comforts of this masterful bedroom in Harmony. When kiting calls, a sliding door leading to the grand terrace provides easy access to the garden, pool, and beach. The Master Bedroom #1 is in a five star class of its own!
Bathroom in Master bedroom #1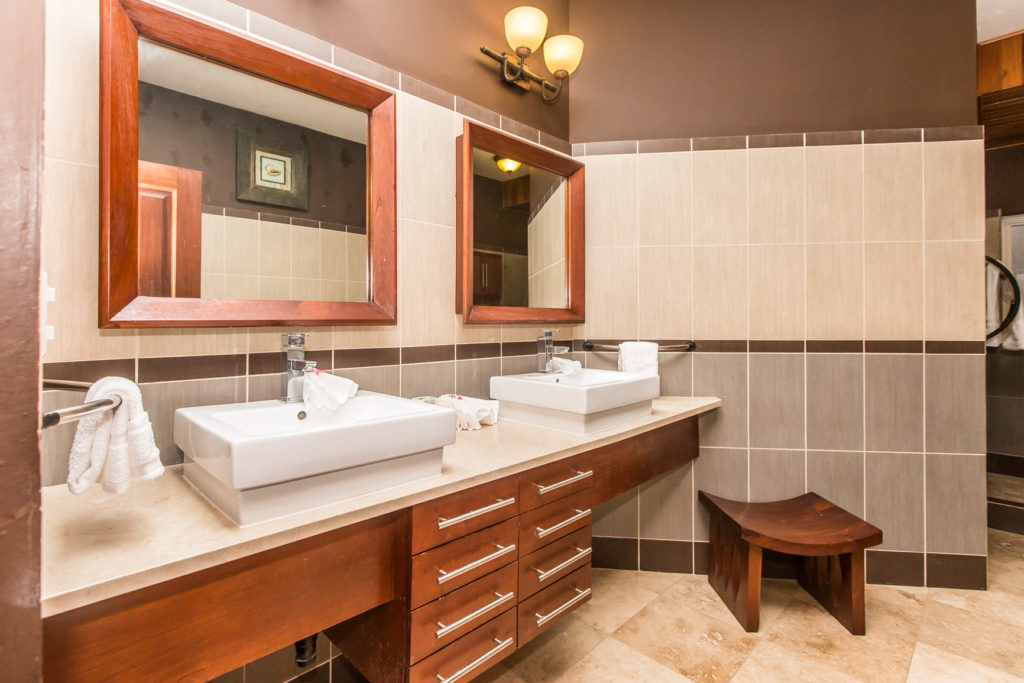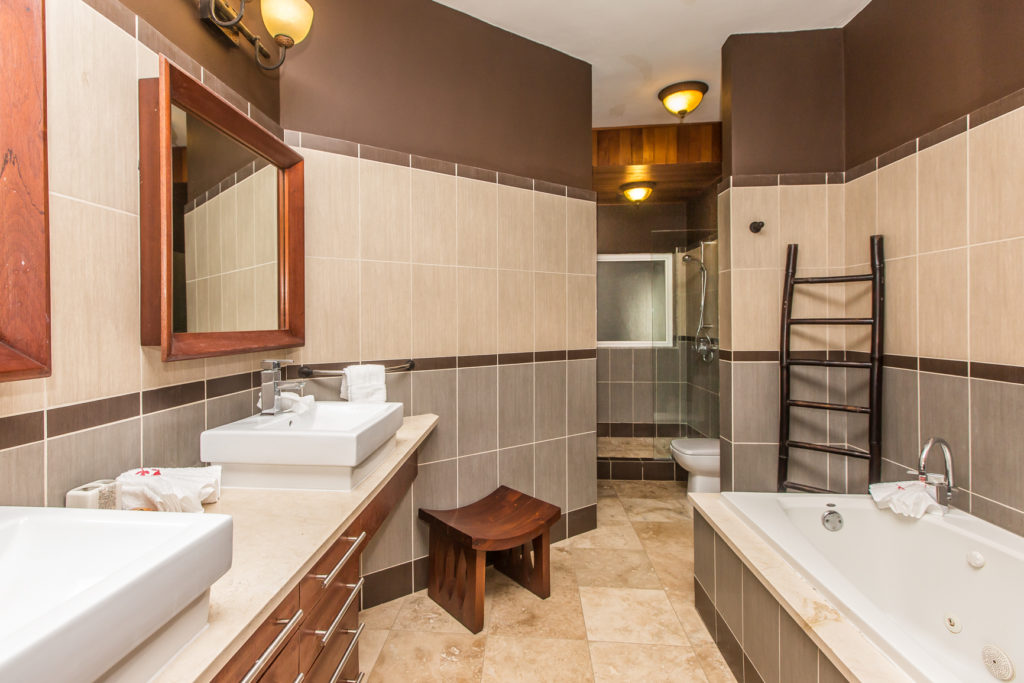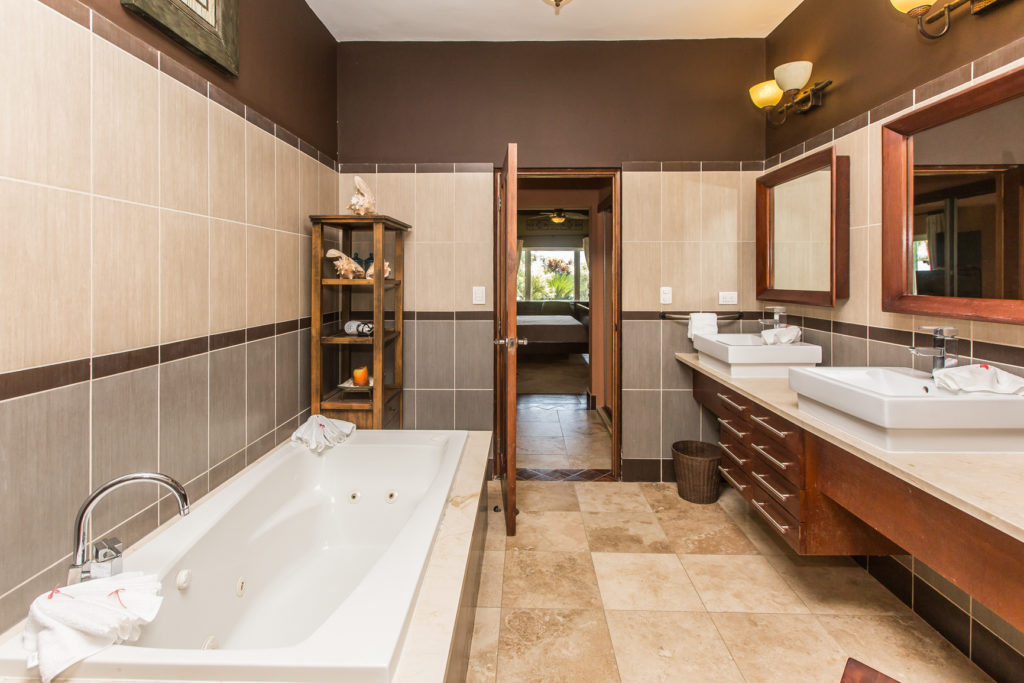 En suite bathroom, with its spacious layout appeals to all bathing styles from the alcove bathtub with its built in Jacuzzi is ideal for soaking in after a strenuous kite surfing session to the free standing shower with its generous room.
Ocean View Master Bedroom #2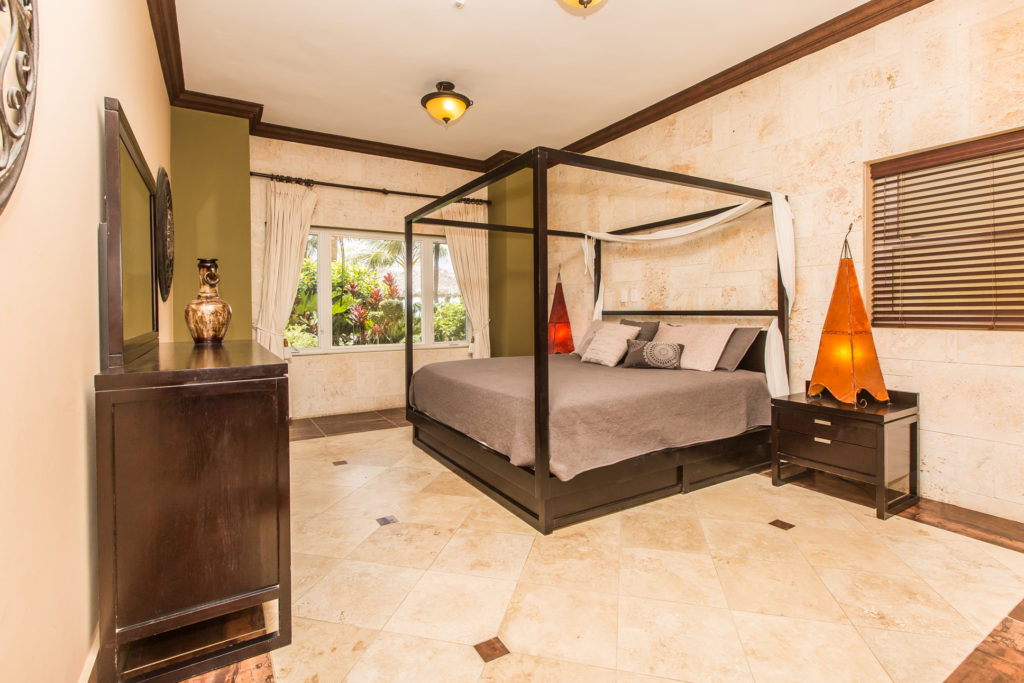 Tastefully decorated with tropical motifs and mahogany furnishings, Master Bedroom #2 has an exquisite queen poster bed with stunning views of the infinity pool and beach.
Bathroom in Master Bedroom #2
En suite bathroom is sublimely decorated to enhance the tropical flair of the Caribbean.
Guest Bedroom #3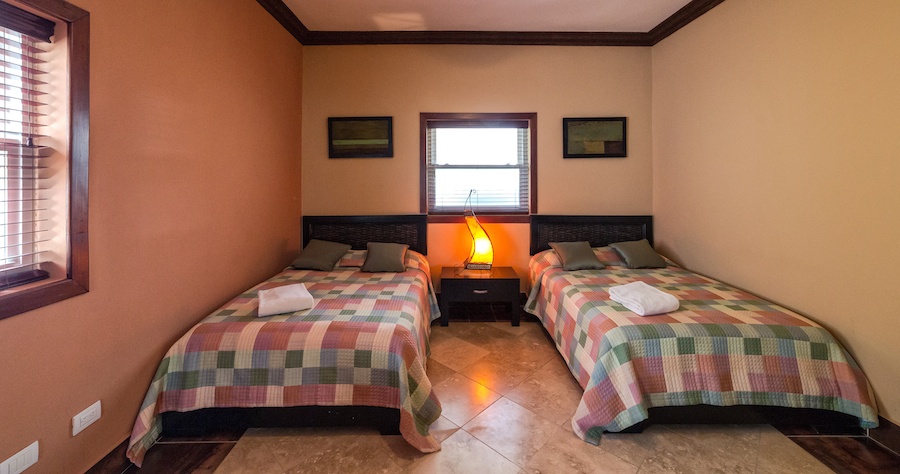 Bedrooms# 3 with its colorful decor houses 2 queen size beds and lots of room for the kiddies to play hide 'n' seek.
Guest Bedroom #4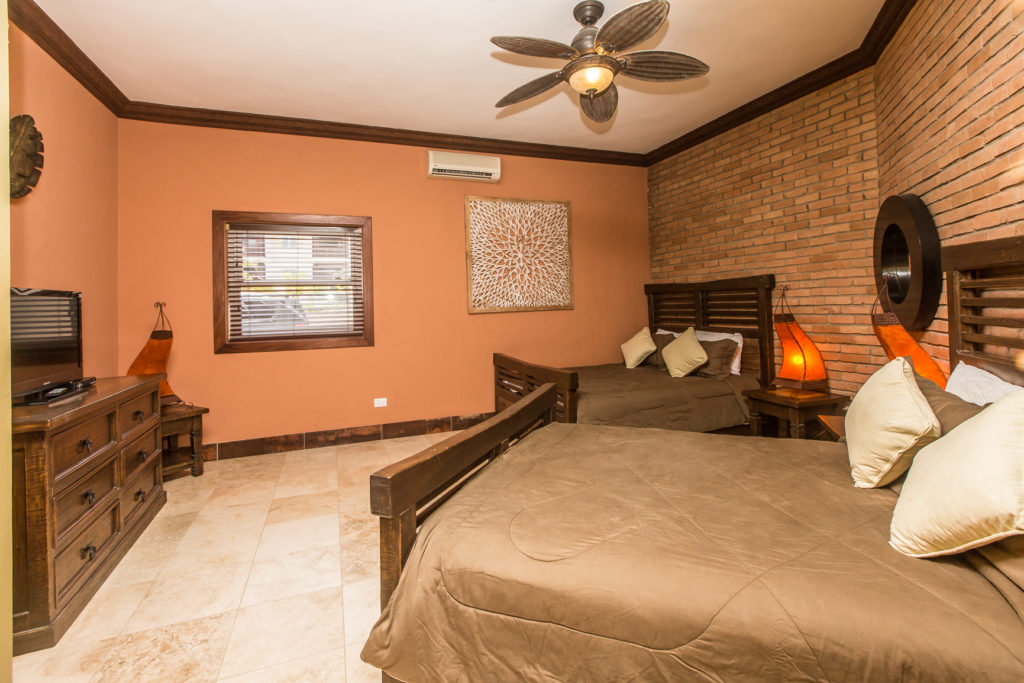 Bedroom #4 is undeniably an artistic feat with the backdrop of a brick façade and its dreamy lightning make this coziest bedroom in Harmony. With two queen size beds and an entertainment system this is the slumber party room.
Harmony has 3 beautiful bathrooms with 2 en suite and one guest.
Harmony – for your most memorable, luxury Caribbean experience. Isn't it time to live the dream of swaying hammocks and gentle breezes?